THE KITCHEN REVEAL (BEFORE + AFTER)
You guys have been patiently waiting for months and it's FINALLY time to share the full kitchen reveal in our newly renovated home! Before I dive into all the pretty pictures, let's take a trip down memory lane.
Wow, it really is insane to look back at this picture! Obviously the sunshine yellow walls had to go and that weird cutout in the corner cabinets was just awkward. The countertops were actually just a thin sheet of MDF board and to top it off, all the lower cabinets had mice in them. We weren't aware of the severity of the mouse situation when we first moved in and we made the mistake of putting things like our toaster, blender, and crock pot in the lower cabinets....we tossed it all cause we found little droppings in them.
On the other side of that yellow wall to your left was a skinny hallway, we decided to knock that wall down to create a more open space.
The cabinets were completely made from plywood and had multiple layers of thick paint making them sticky during the summer months. The flooring was just a cheap laminate which was also in poor shape. Oh, and the walls and ceiling were plaster which started cracking so that all needed to come down too! Woofta...feeling overwhelmed yet!?
The kitchen remodel took around 4 months to complete and that included gutting everything down to studs and starting from scratch. Although in the moment it felt like it was moving slowly, 4 months is a reasonable amount of time especially since we did it all ourselves. So, here are some progress shots of our kitchen!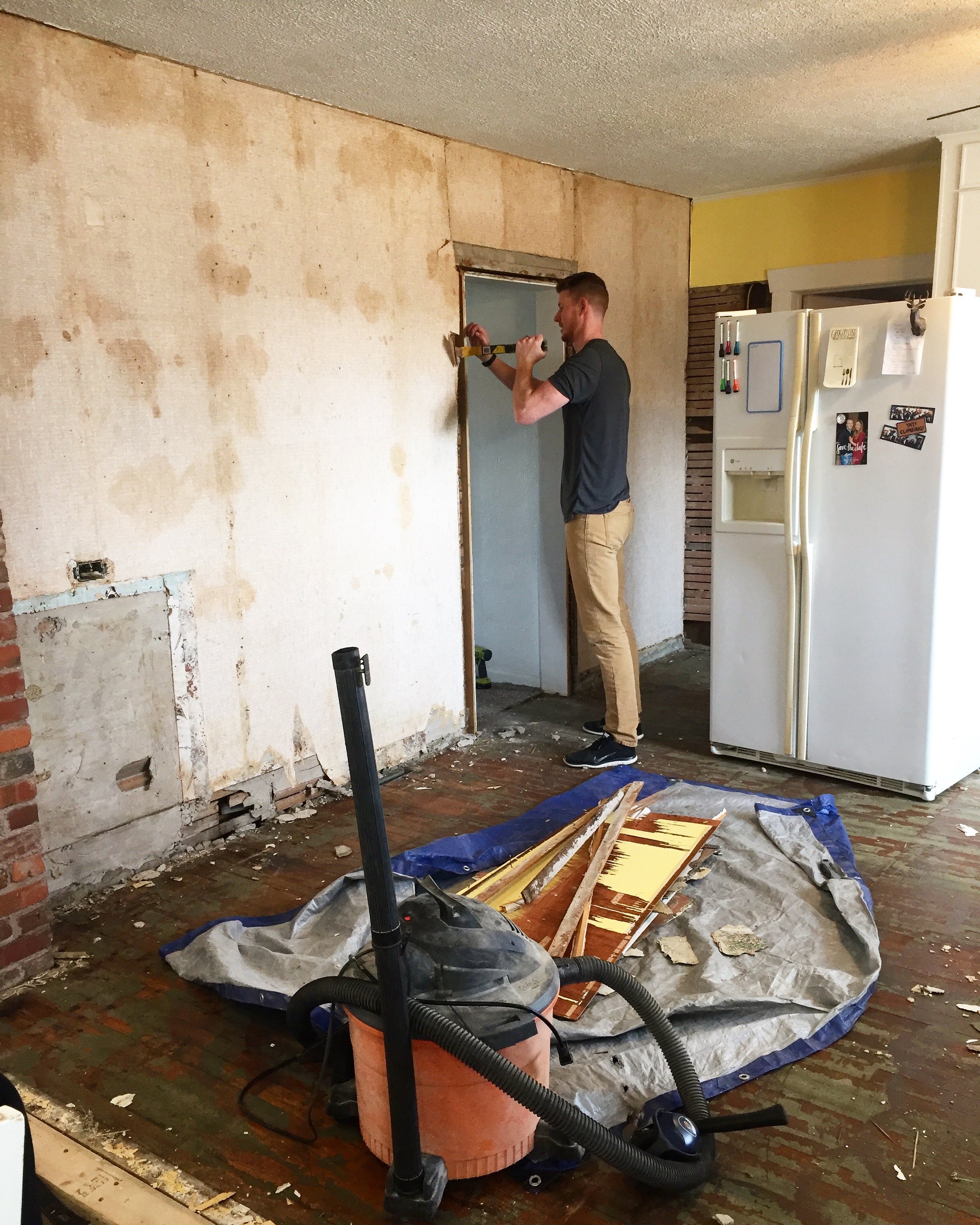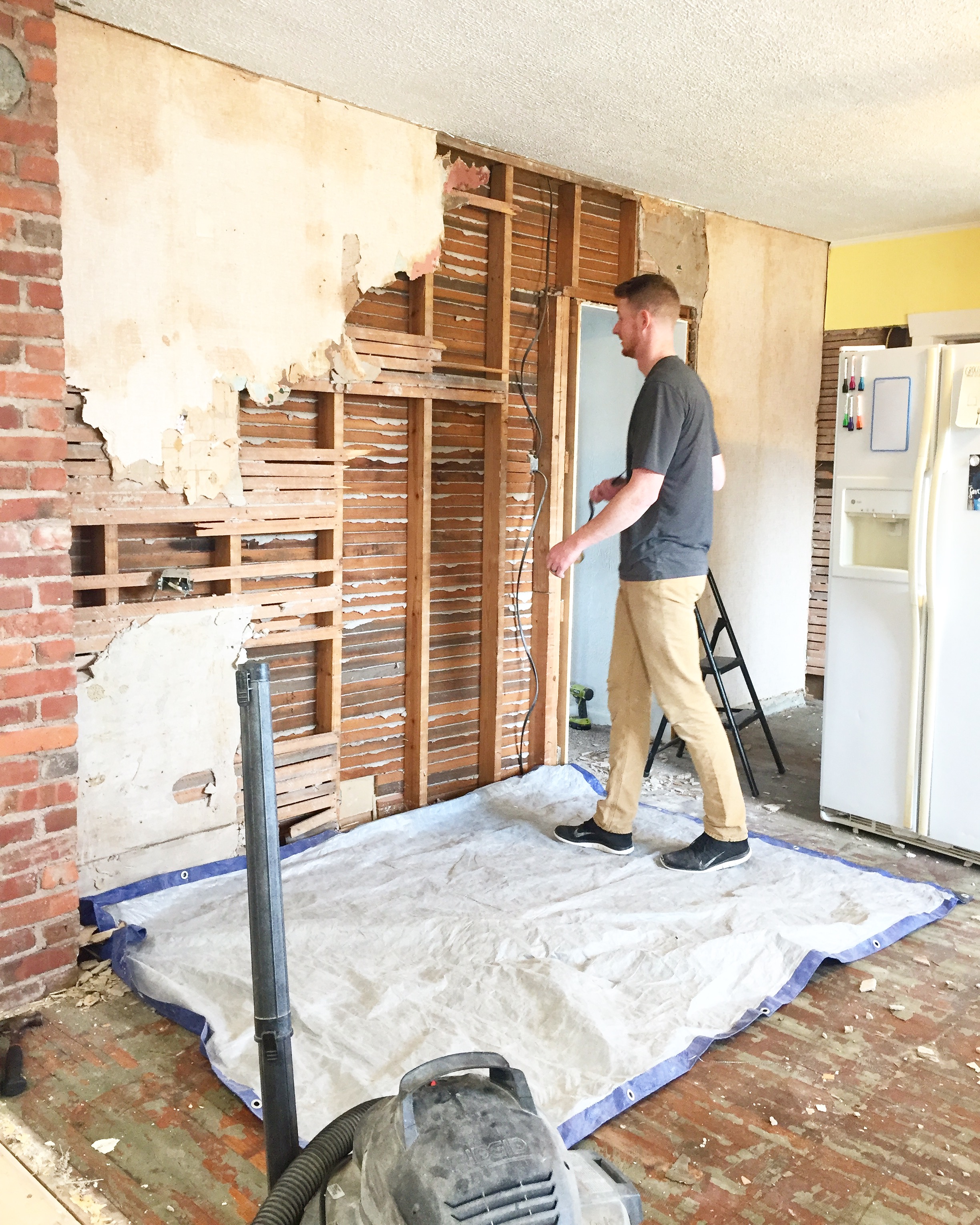 Our design goal: Modern and minimal with a neutral color pallet.
We redesigned the original floorplan and created a custom cabinetry layout. It was so fun being able to choose the style, sizes of cabinets, the type of drawers, and where everything would go!
Although I love the look of a white kitchen, I wanted to try something that wasn't as common so we decided to go the exact opposite and do black cabinets. In order to keep the room from feeling dark or dingy, everything else needed to be light and bright.
One of the ways we kept the space lighter was by installing white subway tile back splash instead of overhead cabinets on one wall. By installing subway tile over the entire wall, we were able to create a feature wall, save money on fewer upper cabinets, and brighten up the space.
We also got all new appliances which was such a refreshing feeling! We did something a little unheard of and mixed stainless steel appliances with black appliances. This decision was slightly unintentional but we found a black oven and microwave (as shown in the pictures below) on craigslist in a brand new home and we snagged them for an incredible deal! Like $300 for an oven AND wall mount microwave! We knew that matching the rest of our appliances to the black ones we found on craigslist would cost us a fortune so we got stainless steel and rocked that mixed look. The funny thing is that no one even notices they're two different colors.
In the middle photo above, you can see our pantry/microwave. This section actually used to be a linen closet which was accessible from the other side of this wall. We took out the door on the other side of the wall, flipped it, and put the pantry in on the kitchen side instead.
Our black sink and faucet are two of my favorite things in this kitchen! I love the industrial look and unlike white sinks, it doesn't show stains from food particles!
Let's talk about these floors for a second! We found the original hardwood floors underneath all the carpet and laminate but unfortunately they were in terrible shape and not repairable. We decided to level out the floors and put in all new engineered hardwoods throughout the entire main floor. We're actually super happy with the new floors and love the lighter tone!
Also, if you look to the left in the photo above, you'll see the other half of our house that still needs lots of love! :)
We love cooking on our gas stove! We had to run a gas line in order to put a gas stove in but it was 100% worth every penny! I doubt we'll ever go back to a glass cook top if we have the choice!
We debated for nearly 2 months on what to do about pendant lights above the island. With the positioning of our kitchen, the island had to be off centered which meant the pendant lights above it would only accentuate its off centeredness more. ("centeredness" is totally a word right!?) We decided to skip on pendant lights above the island and place one above the sink instead. We're really happy with that decision and we love having a little mood lighting in the evening!
Speaking of the island, I custom designed the island and Chris built it. We wanted a functional island with storage that also seated at least 3 people. We purchased an extra 3 cabinets and Chris built the structure around it to make it feel like one solid piece. I didn't realize how much an island would transform the space but it is by far my favorite thing in the kitchen!
Remember that sunshine yellow wall we knocked out? That beam above is where the wall used to be and our word art is where the bathroom door used to be. We relocated the bathroom door to the hallway on the right to create a little more privacy for the bathroom entrance. Now we have a fun wall to decorate and write goofy quotes!
Kitchen remodels...gosh they are one heck of a job but we are so stinking happy with the outcome! Having this space in our home and being able to say that we designed and built it from scratch is kinda insane but it's something we're pretty dang proud of!
Here are a couple quick before/after shots.
So there you have it - our full kitchen reveal! If you saw something you love and are curious where we got it from, I put together a list of all the products we used here! You can get direct links to everything in our kitchen!
P.S. Are you curious to see what our living room looks like after the remodel? Check it out here!
Until next time,
WANT TO KNOW EXACTLY WHEN I POST A NEW BLOG?
SUBSCRIBE BELOW AND I'LL EMAIL YOU!